Have any question? 9988776655
WE FIRMLY BELIEVE IN: ONE GOD-ONE GLOBAL EARTH–ONE NATION WE ALL ARE THE GLOBAL CITIZEN OF ONE GLOBAL NATION. LEARN PEACE-TEACH PEACE-PRACTICE PEACE CULTURE & LIVE WITH PROSPERITY & DIGNITY, VALUING EVERY CREATION OF GOD.
We Value the Global culture of peace, solidarity, inclusiveness, shared responsibility, harmony, cooperation, goodwill and reverence for the sacredness of all life through active peaceful engagement. We focus on universal values, which transcend the boundaries of religion, ethnicity, gender and geography. We are passionate to help bring about a culture of peace and a global civil community in which all the people of the world can address together our common global concerns in a holistic, positive and transforming way and live together in peace with one another for our own Prosperity and ultimately the Prosperity of the Global Nation.
Let all the Global Citizens of the Global Civil Society, support the principles, global ethics and universal values such as respect, justice, peace, dignity, freedom, responsibility and cooperation among us, realizing the Universal need of Practicing Peace with the divine Principles of reconciliation.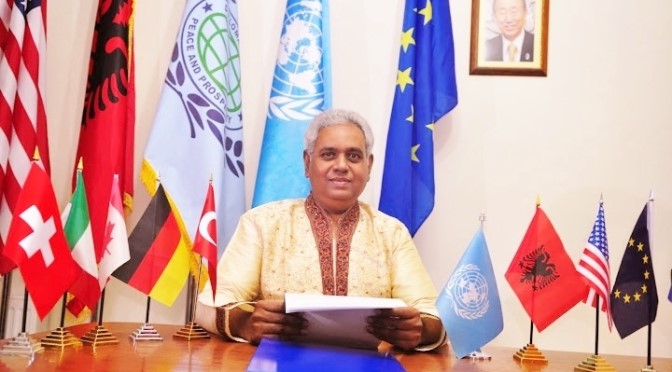 His Eminence Professor Dr Madhu Krishan


The Chairman Cum Managing Director AUGP GLOBAL PEACE FOUNDATION INDIA
Let us all join together in the process of building a "PEACE LOVING-PEACE LIVING, PEACE PRACTICING GLOBAL TRANSFORMED COMMUNITY to Live with Prosperity & Dignity with a quality relationship with one another with divine love & Compassion & Understanding in the midst of diverse thriving cultures. Let us understand the need of others in an indiscriminate holistic manner; understanding the Fact that we all are getting our daily light from our ALMIGHTY GOD, who created the entire universe; We appeal that we all get along in the Process of Building up this Universal Global Peace Practicing Transformed Community. We the family of AUGP is well experienced in organizing many educative Seminars, conferences, Motivational &Training Leadership Camps since 1986. And, with our vast experience, we can firmly say that; "YES WE CAN ESTABLISH UNIVERSAL GLOBAL PEACE ON OUR PLANET TO ENJOY LIVING IN PROSPERITY&DIGNITY"
The Youths of our Global Society have the greatest potential to transform the Global Citizens as Faithful Messenger of God's PEACE, LOVE & UNITY. And, to be trained to Train Other Trainers into Powerful Motivators, Trainers & Courageous Promoters of PEACE, LOVE & JUSTICE, Compassion, and integrity and ultimately, bridging Global Citizens to God's Spiritual Kingdom. You, "The Youths" are the LIGHTS & SALTS of the EARTH. Let's support the Youths in their transformation process with the skills of Spiritual Leadership to assist them in the establishment of Universal Global Peace. We the family of AUGP is well experienced in organizing many educative Seminars, conferences, Motivational &Training Leadership Camps since 1986. And, with our vast experience, we can firmly say that; "YES WE CAN ESTABLISH UNIVERSAL GLOBAL PEACE ON OUR PLANET TO ENJOY LIVING IN PROSPERITY&DIGNITY
God Bless,
HIS EMINENCE Dr. MADHU KRISHAN.
DD., FICA., SD(USA)., Ph. D(USA)
Founder and Chairman of AUGP; Chairman of The American University: Honorary Chairman DMPP Albania
• "AWARD COUNCIL OF INDIA" Honoured Dr. Madhu Krishan with very Prestigious Award Of "PRIDE OF INDIA " (See the website link of Award Council Of India – http://www.awardcouncilofindia.com/recent-award.php?id=9
• WE SUPPORT: -UNIVERSALLY ACCEPTED 10 PRINCIPLES OF UNITED NATIONS Global Compact , UNITED NATIONS Academic Impact, UNITED NATIONS HUMAN RIGHTS & ALL CHARTERS OF UNITED NATIONS & EUROPEAN UNION